Sumptuous Greek Salad!
Ugh! Salad is boring. How can one possibly subsist on leaves that contain mostly water? I personally cannot!
To add insult to injury, in most restaurants designer salads are ridiculously overpriced. And what's more, with all the extra flavourings – dressings, candied pecans, crispy tortilla strips, etc, the salad ends up containing more calories than a cheese burger!
Greek salad is different! It's sumptuous. It's peppery, salty with olives & full of garlic. In short, it's tasty & surprisingly filling.
And it's so easily made at home!
Ingredients:
1 large – Cucumber (quartered & sliced)
2 medium – Vine Grown Tomatoes (chopped)
1 medium – Pepper, red, orange or yellow (chopped)
1/4 medium – Red Onion (sliced)
1/4 medium – purple cabbage (sliced)
12 large – Olives, black or green (sliced)
1 cloves – Garlic (crushed in garlic press, then sliced)
Grind liberally – Black Pepper
1/2 – Lemon
Liberal pour – Olive oil
2 tsp – Basil (fresh if you can get it)
2 tsp – Oregano (fresh if you can get it)
As desired – Feta Cheese
Preparation Instructions:
Chop up cucumber, tomato, pepper, onion & cabbage into bite sized pieces. Or chop to a size that you desire.
Half & slice up the olives.
Crush & slice the garlic.
Add the above to a casserole dish (that owns an accompanying lid) & combine thoroughly.
Grind pepper liberally over the vegetables & stir.
Squeeze half a lemon over the salad & stir.
Pour enough olive oil to cover mixture, but not enough to pool at bottom & stir once more.
Serving Instructions:
Scoop out into a beautiful bowl!
Add basil & oregano to taste.
Add feta or goat's cheese or the cheese of your choice.
Light a candle. Pour yourself a glass of wine. And enjoy this sumptuous salad!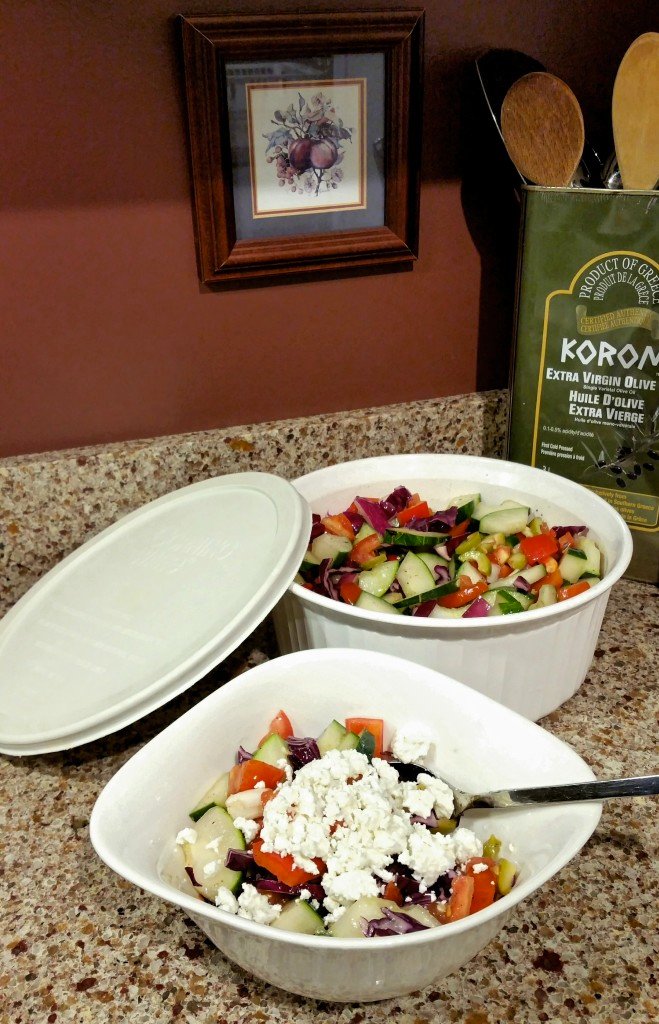 Keep your Greek Salad in a casserole dish with a lid that seals moderately well. This way your salad will last in the fridge for at least three days.
This Is The Best Salad You Can Keep On Hand
This salad is amazing because:
It has no leaves, so it will keep for much longer.
Cutting the vegetables into bite-sized chunks saves time.
It can be used as a base salad for many different dishes.
There Are Multiple Ways to Change Up This Salad
For variety to your Greek Salad add:
Beans
Brown rice
Barley
Cheddar, feta, brie, goat's cheese or blue cheese
Salmon, prawns or other seafood
Beef or chicken
Eggs
Organic ingredients are preferable for both taste & nutrient value. Hopefully it's both available & affordable in your area.
Enjoy!
Do you have ideas on how to make your Greek Salad unique? Please share with us at leongorthopaedichealth@gmail.com.
– LEONG Orthopaedic Health
If you like this article, please share it!
All rights reserved; no part of this publication may be reproduced or transmitted by any means, electronic, mechanical, photocopying or otherwise, without prior permission. Copyright 2015 LEONG Orthopaedic Health.